Navigation
---
| | |
| --- | --- |
| From the Main Toolbar, go to Fund. | |
| Select Fund details from the list. | |
System Start Date
---
What is the System Start Date?
The System Start Date is the date the fund became active in Simple Fund 360 (the first active financial year of transaction processing in Simple Fund 360). Automated system journals such as profit allocation and revaluations will commence as of the system start date.
In what circumstances would you want the System Journals not to be active?
When you are inputting opening balances for a fund and recording income and expense comparatives.
When the system start date is incorrectly entered into Simple Fund 360, comparatives will be allocated to the member accounts.
Example
---
What date would I input as the System Start Date?
You are inputting opening balances for the BGL Training Fund as at 30/06/2016.
The date formed for the BGL Training Fund was 14/06/1994.
The first active year for the BGL Training Fund will be 2017 financial year. therefore the System Start Date you will input will be 01/07/2016.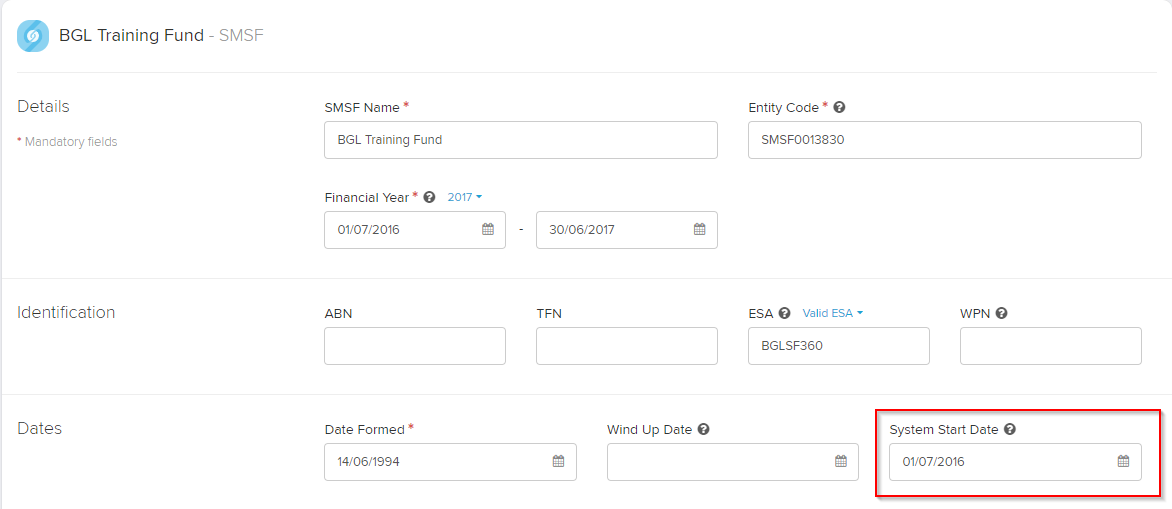 If the System Start Date is NOT input, when comparative amounts are recorded and posted, Simple Fund 360 will produce the System Journals which will:
Allocate any Income and expense amounts recorded as comparatives to member balances.
GST will be recorded on relevant amounts for any GST registered funds.
Error: No contributions or profit have been allocated to member(s) in the current financial year?
---
Review the System Start Date from the Fund Details screen.
When the System Start Date has been updated and saved, please repost any member transactions (Contributions, Pensions, Lump Sums etc). You may need to reverse entries if they have been created.