---
The Bank Feed Comparison Report empowers you to compare bank data sourced from bank data feeds with the corresponding ledger data. This comprehensive report not only reveals variances but also plays a crucial role in pinpointing discrepancies.
Note
Rabobank and HSBC accounts are not currently supported for the Bank Comparison Report.
How to use the report
---
The following are key items in the report:
Feed Start Date
The Date the bank Deed started
Feed Source
This indicates if BGL Transaction from a feed or manually entered.
A manual entry by a user includes manual data entry via our UI, a CSV import and BGL SmartDocs (PDF scanning).
Ledger Data
Narration and amount of transactions in BGL. Running Balance in BGL will also display. The feed source above indicates how transactions were added in BGL.
Bank Feed Data
The Description and amount from a BGL Bank Feed. A human user cannot modify Bank Feed data. It is the Transaction and Balance data BGL receives from the Institution.
Please note the following:
Transactions added or edited by a user will display under the Ledger Data with no corresponding entry under Bank Feed Data.

Bank Transactions that BGL has received that cannot be matched to a BGL entry will still display under Bank Feed data with Feed Source = Missing Trans to highlight.

Any Bank Feed records that users have amended will have an asterisk * next to 'Bank Feeds' under Feed Source to highlight to users that some changes have been made to the particular transactions. Changes that can be made by users are reference, narration, amount and date.

Navigation
---
| | |
| --- | --- |
| From the Main Toolbar, go to Reports. | |
| Select Reports. | |
How to prepare
---
To download an individual report in PDF, Word or Excel format:
1. On the left-hand side of the Reports screen, search for the Bank Feed Comparison Report from the Work Paper Reports list.



2. Select the green arrow to add the report to the Report Pack List.

3. Once added, select Settings (to the right of the report).

The Bank Feed Comparison Settings screen will display: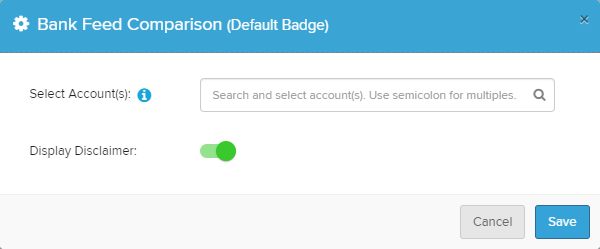 Here you can use the search field to select fund bank accounts that currently have a bank feed. The search field will allow for multiple bank accounts to be selected.
You can also toggle whether a disclaimer stating "this report is true and correct as at 'Date and Time'" will appear on the report.
4. Select either Download PDF, Download Word or Download Excel.

You can also add this report to a Report Pack. See Reports for instructions.