---
Overview
---
The Distribution Reconciliation Report has been added to the Reports screen to assist you with the following:
Verifying tax components that have been entered against your distribution income.
The payment received reconciles with the Operating Statement.
Gross trust distributions (label 11M in the tax return) can be easily reconciled.

Capital Gains reconciliation section added at the bottom of the report to assist in reconciling the gross capital gain of the fund with the NET capital gains for both the 1/3, 2/3 method (superfund) and 50% (individuals) discount rates. The discount elected for each distribution is determined by the election made in the Distribution details panel when recording tax statements. Refer to

How to Enter a Distribution & Tax Statement

for more.
Navigation
---
| | |
| --- | --- |
| From the Main Toolbar, go to Reports. | |
| Select Reports. | |
How to Prepare The Distribution Reconciliation Report
---
To download an individual report in PDF, Word or Excel format:
On the left-hand side of the Reports screen, search for the Report.

Select the green arrow to add the report to the Report Pack List.

Select either Download PDF, Download Word or Download Excel.
You can also add this report to a Report Pack. See Reports for instructions.
Rate Column
---
The Rate column under Distributed Capital Gains (B) section indicates whether the 1/3 or 50% method has been selected in the distribution more details panel.
"S" indicates the 1/3 method has been selected;
"I" indicates the 50% method has been selected.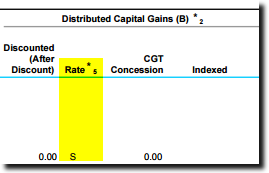 Note: Taxable Income of reconciliation report will differ in circumstances where the discount rate elected for distributions is 50% in the More Details Panel to the taxable income of the fund. The distribution reconciliation report is purely for the reconciliation of distribution statements; not with direct reconciliation to the fund's taxable income regarding capital gains. Use the Realised Capital Gains Report as an alternative for that matter.
Variance in Net Cash Distribution
---
The Distribution Reconciliation Report will indicate if there is a variance between the total distribution payment received and the total net cash payment received for each investment. The variance will only be displayed at the sub account level.
Example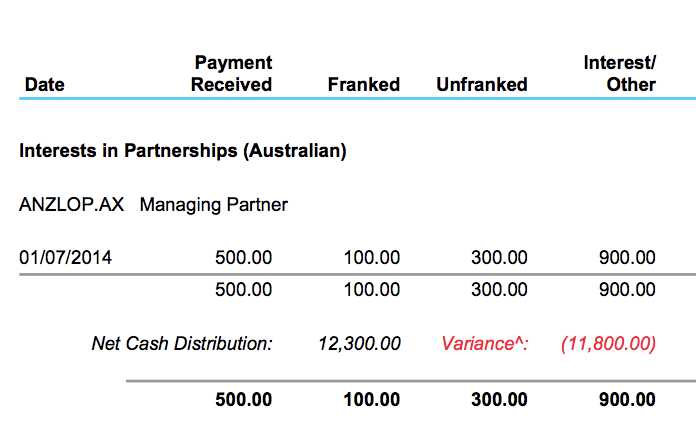 Notice that the partnership has a net variance of $11,800.00. This would indicate that there is a discrepancy in the Payment Received and Net Cash Distribution received.
If there is no variance, the report will not display a variance indicator.