It is recommended that Shares in Listed Companies - Australian are added to your firm's Global chart of accounts only once. This one account can then be attached to multiple funds which hold shares in this investment, or go on to purchase shares in this investment in the future.
The reasoning behind this stems from two key points:
Where the BGL Contract Note Service is used, Simple Fund 360 will automatically process buy and sell transactions to the share account with the initial security code.
In the future Simple Fund 360 will utilise a multi-fund processing corporate actions feature, which again will look for the share account with the initial security code.
What is meant by the initial security code?
When Shares in Listed Companies are added to the chart of accounts, a security must be selected from the list. Listed security will take the form of the ASX code with ".AX" added to the end of the ASX code.
For example, ANZ will display as ANZ.AX.

If an additional share account is added into any fund in your Simple Fund 360 firm, it will take the next available code. In this example, the next available code is ANZ.AX1.
What is the issue with the additional digit after .AX?
Automated services such as the Contract Note Service will not upload transactions for share accounts with additional digits.
How do I attach the share account to a fund's chart of accounts correctly (instead of creating them again)?
Within the fund, head to the chart of accounts.
| | |
| --- | --- |
| From the Main Toolbar, go to Accounting. | |
| Select Chart of accounts from the list. | |
Select Global View.

Input account 77600 and select the Search icon. Show the sub accounts for 77600 by clicking the + sign.

Select the sub account and the Edit Investment Account screen will appear. Choose the fund to attach to the account (Select Entities) and select Save. Select Save again to update the account.

I have found a share account with an additional digit (ANZ.AX1). How do I fix this?
From the Global cart of accounts, under the Fund column, Simple Fund 360 will display the fund's that this account is attached to.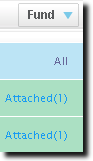 You will need to access the Transaction List for each fund and recode the transactions to the correct account (for example, 77600/ANZ.AX). Transactions may be coded to this account for prior years. In this case, you will need to re-open the financial year under Fund Details and recode these as well.