Overview
---
This article provides instructions on how to add a member to the fund.
When a member is added, the default account created is an accumulation account. Each member in Simple Fund 360 can only have one active accumulation account.
Refer to the ATO website for more information on superannuation interests.
If you would like to add a pension member account to the fund, you need to convert an existing accumulation member to pension phase. See Commence or Start a Pension for more details.


Navigation
---
To add a New Member account, navigate to Member, then select Member List:
| | |
| --- | --- |
| From the Main Toolbar, go to Member. | |
| Select Member list | |
Instructions
---
From the Member List screen, select New Member Account and from the drop-down list below, select New Accumulation Member.


Input the member's personal details. If the member has been added to the Contacts list in Simple Fund 360 (see Contacts: Add a Person) begin inputting their name into the Select Member From Contacts search bar and select their name from the drop-down list that appears below.


Simple Fund 360 will create a MEMBERCODE based on the member's name (which is editable).
Once you have saved the member account, the MEMBERCODE is no longer editable.


Input the following details of the member.
| | |
| --- | --- |
| Account Details | Explanation |
| Account Description | Insert an account description. This is a mandatory field. For example, if the account is a pension account, input the type of pension account (such as Account Based Pension). |
| Start Date (Date Joined Fund) | Input the date the member joined the fund. If you need to input/change the date the member joined the fund and it is outside of the current financial year date range in Fund Details, the date range will need to be opened temporarily. You will receive an error if the date range is outside the current financial year. |
| Service Period Start Date | Input the date the member began receiving contributions from their first (oldest) employer. |
| | |
| --- | --- |
| Nominate Beneficiaries | Explanation |
| Add Beneficiary | Select Add Beneficiary to nominate a beneficiary to the member. The beneficiary will need to be added as a Contact prior to adding here. |
| Upload Form | Select Upload Form to upload a Binding Death Nomination Form. |
| View Form | Select View Form to view the Binding Death Nomination Form. |
| BDBN Form | Death Benefit Nomination Form can be prepared. |
Select Save to add the member to the fund or Cancel to abort the change.


After selecting Save, the following screen will display: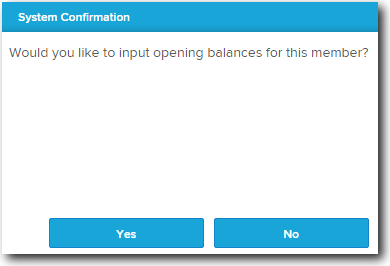 Select Yes to input opening balances for the member or No to return to the Member List.
See Also