---
Disclaimer
Warning: A member of an SMSF can make a death benefit nomination that is a binding direction on the trustee of an SMSF provided that is catered for in the governing rules of the fund and the form is completed correctly. Please ensure you review the Governing Rules of the fund before completing the nomination otherwise, this nomination may be deemed invalid in a court of law.
Binding death benefit nominations are legal documents and carry significant risk. We therefore highly recommend that the nomination is reviewed or completed by a Legal Representative.
Overview
---
Death Benefit Nomination forms (BDBN) can be produced via the Reports screen. BDBNs can be uploaded/attached to the member via the Member List.
Minute/Resolution available;
BDBN forms produced externally can also be uploaded to the Member List.
Rule/Clause Number
---
1. Prior to form preparation, add the Rule/Clause number of the SMSF's Trust Deed to Fund Details to pre-fill the Declaration and Acknowledgement section (point 2) of the BDBN.



2. Rule/Clause 7.4 is included in the Declaration and Acknowledgement section.



Prepare BDBN
---
1. Navigate to the Reports screen.
| | |
| --- | --- |
| From the Main Toolbar, go to Reports. | |
| Select Reports. | |
2. From the Reports screen, under the Letters/Minutes section, drag and drop (or select Add) the Death Benefit Nomination Form to the landing page.




The Death Benefit Nomination Form and Death Benefit Minute/Resolution will attach to the Report Pack List.
3. Select Setting.

Complete the Report Settings.

| Setting | Explanation |
| --- | --- |
| Member Account | Select the Member Account the form is for from the drop-down list. The member code will display on the Death Benefit Nomination form. |
| Witness 1/2 | Select two witnesses. |
4. Select

. In the Reports screen, select Download PDF or Download Word

Note: The My Nomination section will pre-fill based on the nominated beneficiary noted for the member account in Member List.

Upload BDBN to Member Account
---
1. Navigate to The Member List.
| | |
| --- | --- |
| From the Main Toolbar, go to Member. | |
| Select Member list. | |
2. Select the member.


3. Select Show Nominate Beneficiaries. to expand the menu.


4. Complete the form options.


| Option | Explanation |
| --- | --- |
| Form Type | Select Binding/Non-Binding |
| Nomination Timeframe | Select 3 Year Lapsing or Non-Lapsing |
| Upload Form | Select Upload Form to attach a BDBN |
| View Form | Select View Form to view the attached BDBN |
5. When Upload Form is selected, from the Upload Simple Document screen, either drag & drop the file into the grey box, or select Browse Files and locate the file. Select the BDBN file and then select Upload.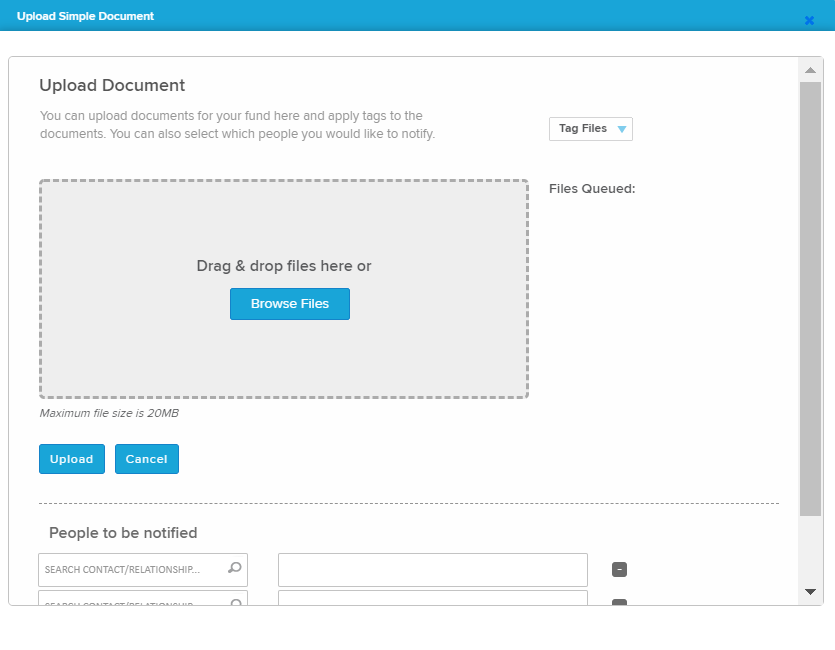 6. Once the document is added, return to the Member's tab and select Save.
Further Reading
---