BGL SmartDocs will save you countless hours by accelerating processing speed. By leveraging the capabilities of AI, you can easily import bank data and supporting documents into Simple Fund/Invest 360, through quick actions such as scanning and uploading the documents or emailing them as attachments.
The software will automatically import the relevant transactions and field items from the supported documents, ready to be matched.
Supported by optical character recognition technology, this application of document scanning brings the following benefits:
Simplifies the process of importing bank transactions
Allows historical transactions to be uploaded, thereby providing increased flexibility
Anyone can send documents to SF360/SI360 by using a unique email, simplifying the workflow process
This article will cover four different applications of BGL SmartDocs:
Importing Bank Statements
---
Use the SmartDocs feature to upload your Bank Statements directly into your Transaction List.
Important
1. Documents currently supported are bank statements in PDF, image/jpeg and image/png format. The system will alert users with an error message if the file format is not accepted.
2. Only certain financial institutions are supported under this feature. See the Supported Banks tab below for more information.
Navigation
| | |
| --- | --- |
| From the Main Toolbar, go to Accounting. | |
| Select Smart Matching. | |
2. Select your Bank Account and click

.
3. Drag and drop, or click to browse your Bank Statements directly on Drop or Browse Files.

4. Once uploaded, select Confirm to proceed or click on the minus icon on the top right corner to remove.

5. The software will read the Bank Statement that was uploaded and will automatically prepopulate the Fast Data Spreadsheet (Result Ready).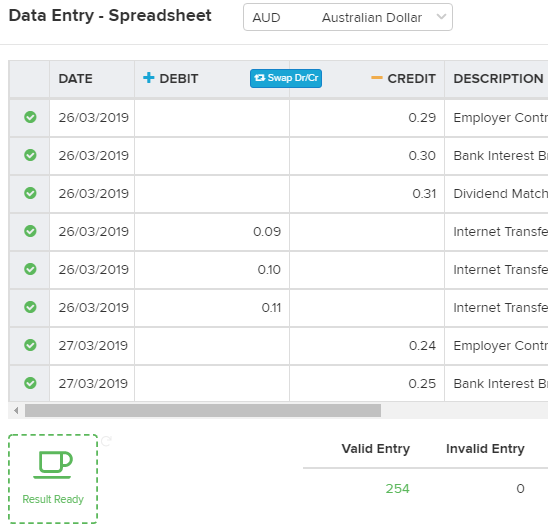 6. To Import the Bank Data, select

Uploading Multiple Bank Statements
Multiple statements can be uploaded and processed at one time, which greatly improves efficiency.
1. Select documents and drag them to the Drop or Browse. Multiple documents can be dragged/selected at one time.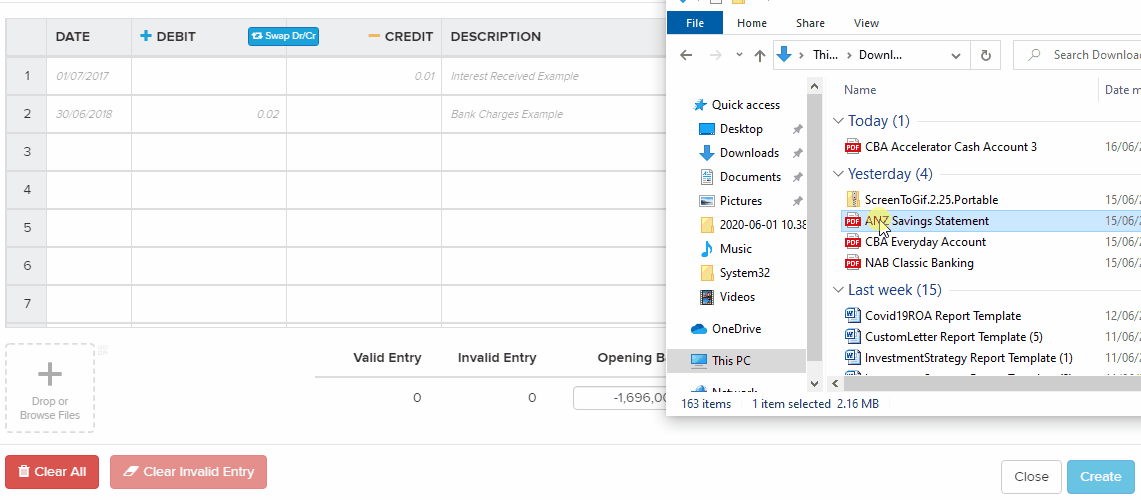 2. Once completed, the number of documents uploaded will display next to the Confirm button. Users can further add documents by clicking on the Add More button below.

3. Select Confirm to proceed and all uploaded statements will be processed.
Password-Protected Documents
Some documents may be password protected. For the software to read encrypted bank statements, you will be required to enter the password.

Document Upload via QR Scan
Bank statements can be uploaded via QR-scanning. Once the QR-code is scanned from a smartphone, files can be transferred from the smartphone to Simple Fund/Invest 360 directly. Users can also take a photo of a statement to upload.
1. Hover the cursor to the top right of the Drop or Browse

2. Click on the QR-code and a magnified QR-code will display. Use a smartphone camera to scan the code. Then select Take a Photo or Browse Photos to locate existing files stored on your phone.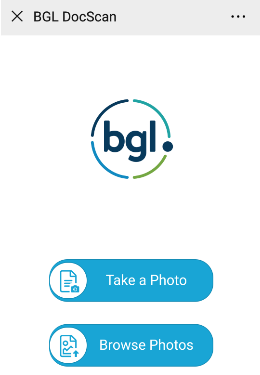 Reviewing Uploaded Bank Statements
Bank Statements will display on the right-hand side of the screen once processed, with the name of the original file shown on the top bar.
Multiple view options are available per users' needs as detailed below.
1. Users can have a quick overview of the bank statements uploaded in catalogue mode from the left sidebar.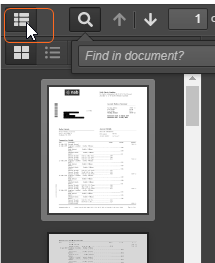 2. View a particular page using the up or down arrow, or enter a page number directly in the page field. Use the search icon to search for a particular item within the document.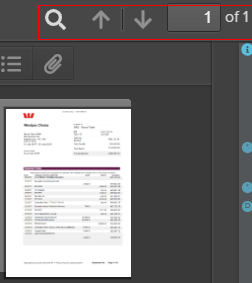 3. Zoom in or out using the plus and minus button to adjust the page size or select a particular size from the drop-down list.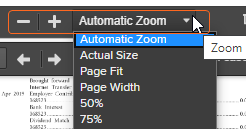 3. Download the machine-read version of the statement by selecting the download icon; Exit the page by selecting the cross icon.
5. More advanced view options are available from the drop-down lists by selecting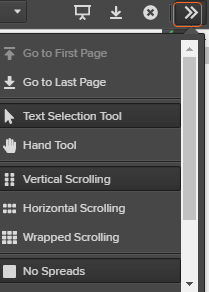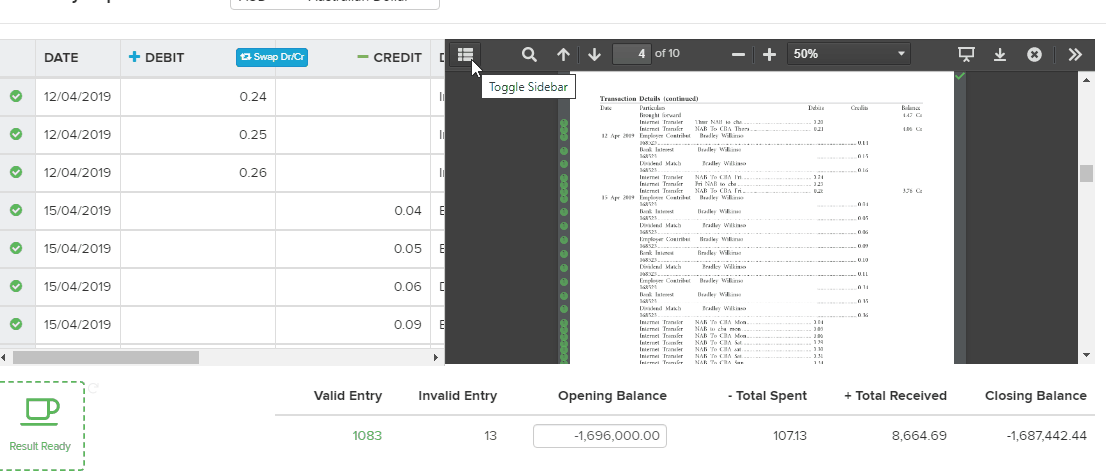 Text Indicators
On the side panels, there will be dots in different colours indicating texts that have been recognised by the system. The account information is indicated in blue and transaction data is in green. Users can hover the cursor over a dot and particular texts will then be highlighted, which are further tagged in a type-written format.

In the unlikely event where texts recognised are deemed unreasonable by the system, a red banner will display beside the texts to alert users. (e.g. transactions are not in chronological order)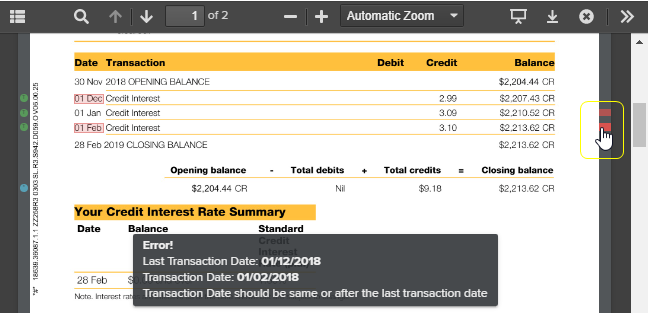 Transaction Reviewing & Editing
Transactions can be reviewed and edited on the Fast Data Entry screen.
To review a particular text, hover the cursor over the item on the Bank Statement displayed on the right, and the corresponding field from the Fast Data Entry on the left would be highlighted, and vice versa. This applies to both descriptions and figures.

To edit a transaction on the Fast Data Entry screen on the left, hover the cursor on a populated field to update texts.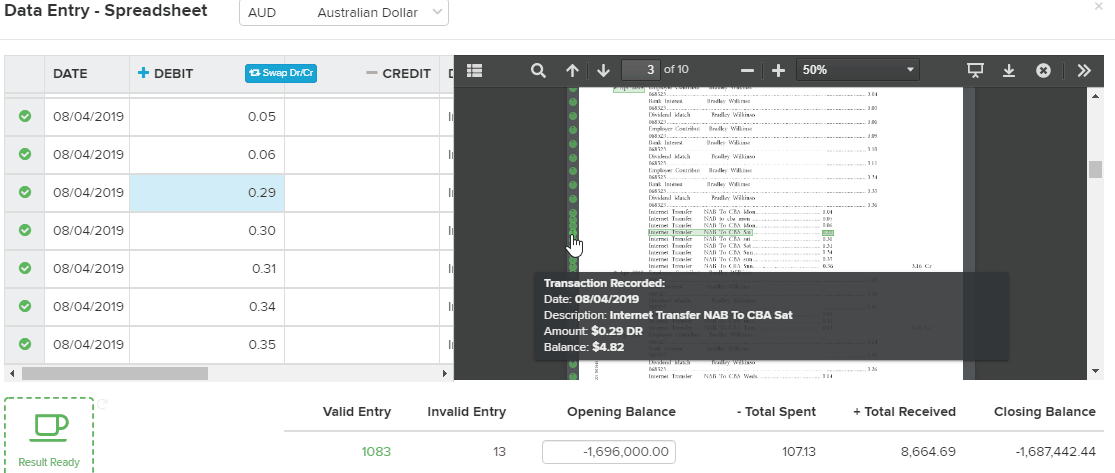 Supported Banks
Following BGL's enhancement of SmartDocs, the AI-powered tool is now capable of reading transactions from virtually any bank statement, irrespective of its source.
| | |
| --- | --- |
| 1 | AFG Home Loans |
| 2 | AMP Bank |
| 3 | ANZ |
| 4 | ANZ Share Investing |
| 5 | AssetChoice |
| 6 | Australian Financial |
| 7 | Australian Military Bank |
| 8 | Auswide Bank |
| 9 | Bank Australia |
| 10 | Bank of us |
| 11 | Bank of Heritage Isle |
| 12 | BankSA (Bank of South Australia) |
| 13 | BankVic |
| 14 | Bankwest |
| 15 | Bell Potter |
| 16 | Bendigo Bank |
| 17 | Beyond Bank |
| 18 | BOM (Bank of Melbourne) |
| 19 | BOQ (Bank of Queensland) |
| 20 | BT Wrap |
| 21 | BT Panorama |
| 22 | BWA Managed Investments |
| 23 | CBA |
| 24 | Citibank |
| 25 | CMC Markets |
| 26 | CommSec Brokerage |
| 27 | Connective Home Loans |
| 28 | CUA (Credit Union Australia) |
| 29 | DDH Graham |
| 30 | FinHQ Administration Service Wrap |
| 31 | Goulburn Murray Credit Union |
| 32 | Greater Bank |
| 33 | Heritage Bank |
| 34 | Hume Bank |
| 35 | ING Direct |
| 36 | IOOF Portfolio |
| 37 | JBWere |
| 38 | La Trobe Financial |
| 39 | Liberty |
| 40 | Macquarie Bank |
| 41 | Macquarie Investment |
| 42 | Matrix Portfolio Service |
| 43 | ME Bank |
| 44 | MLC Wrap |
| 45 | Morgans Financial |
| 46 | Mortgage House |
| 47 | Mortgage Mart of Australia |
| 48 | MyState Bank |
| 49 | NAB |
| 50 | NABTrade |
| 51 | North Investment |
| 52 | Ord Minnett |
| 53 | P&N Bank |
| 54 | People's Choice Credit Union |
| 55 | Queensland Country Bank / Credit Union |
| 56 | Rabobank / RaboDirect |
| 57 | Regional Australia Bank |
| 58 | Sandhurst Trustees |
| 59 | Service One Alliance Bank |
| 60 | St George |
| 61 | Suncorp |
| 62 | SWSCU (South West Slopes Credit Union) |
| 63 | Teachers Mutual Bank |
| 64 | TPT Wealth / Tasmanian Perpetual Trustee |
| 65 | UBank |
| 66 | WAW Credit Union |
| 67 | Westpac |
Uploading Documents to the Documents Screen
---
Every entity will have one unique email. Files sent to this email are added to the Entity's Documents page. Users can also use their smartphones to upload documents. From here, supported documents are then auto-categorised from within the Documents screen.
When Dividend Statements, Contract Notes, and Water Bills are uploaded to Simple Fund 360 or Simple Invest 360 they will now be automatically linked to the relevant transactions. These files are automatically attached to the Transaction List and Workpapers regardless of how the documents are uploaded into Simple Fund 360 or Simple Invest 360.
Note: Currently, only PDF documents and JPG/JPEG images are supported. Note: zipped files are not supported.
Emailing documents to the Documents Screen
You can locate this unique email given to your entity on the Entity Dashboard.
| | |
| --- | --- |
| From the Main Toolbar, select Fund (or other entity) | |
| Select Fund/Entity dashboard from the list. | |
The unique email will be shown on this screen. Click the

icon to copy the email.

Simply email the files to this unique email address.
Inputting a Financial Year as the subject of the email will automatically tag submitted documents with that financial year:
The only formats recognised are "FY20XX" and "FY 20XX".
You will receive a confirmation email stating the document has been received, and additional email notifications if any issues arise during processing.
Note: There are no restrictions on who can send documents to the Entity's unique email. Therefore, please be mindful of sharing this email address to others.
Once documents are uploaded, they can be found on the Documents screen.
Using your Smartphone to Upload Documents
BGL Engage enables you to easily upload documents for your entities with a simple tap on your smartphone.
From the App, tap the

icon. From here, you can use your phone's camera to take a photo of a document. You can also use the File Upload function to upload files from your phone's photo gallery.
Once you are happy with your photo, the photo will then be instantly converted into a pdf file and saved into the software's Documents screen.
AI-Assisted Auto Categorisation
The software will use AI to automatically categorise uploaded documents into folders within the documents screen.
Note: At this time, auto-categorisation is only available for specific types of documents, including dividend statements, contract notes, water bills, invoices and receipts.
Head into the Documents screen, and toggle on the AI-Assisted category.

From here, users can choose to Ignore or Confirm the categorisation.

Linking Uploaded Documents to Smart Matching
---
When Simple Fund/Invest 360 recognises that uploaded documents correspond to existing bank transactions, it will seamlessly attach these documents to the transaction, and have key line items prefilled. This can be viewed from the Smart Matching screen.
Note: At this time, linking documents to Smart Matching is only available for specific types of documents, including dividend statements, contract notes, water bills, invoices and receipts.
These documents must be PDF documents that are not password-protected and not zipped.
Linking Uploaded Documents to Smart Matching
The

icon indicates that one of the documents uploaded matches the transaction:

Clicking on these transactions then displays the uploaded document:
Transaction details will also be prefilled as per the document.
From here, simply select the correct account, review, and match the transaction. For more details on using the Smart Matching screen, please see Smart Matching.
Reconciliation of Rental Statements
---
This integrated AI feature allows you to compare transactions recorded in entities to an uploaded Rental Statement while also allowing you to make adjustments, easily changing a consolidated property income/expense figure against the breakdown of all elements from the Rental Statement.
For more information, refer to SmartDocs - Rental Statements.