Using BGL technology you can now add any Word or PDF document to a report pack and have them digitally signed (template editing required).
Important:
To be able to send external documents you will need to select a system report that is enabled for digital signing.

You can have up to a maximum of six contacts sign per document.

For PDF documents you will be required to place anchor texts and will need either an adobe pro account or adobe pro DC account.

Word Documents need to be edited, you will be required to place anchor text.

The maximum file size that can be uploaded is 10MB.
Please follow the instructions for setting up word and pdf documents for digital signing:
Instructions: How to Upload 3rd party documents into Simple Fund 360
1. select a System Report and click on Digital Signing.

2. Using the Digital Signing wizard, click on Upload 3rd Party Documents.

3. From the Upload 3rd Party Documents screen select the file that needs to be uploaded.
4. Once uploaded select Enable Signing.

5. Select the contacts that are required to sign the document (Contacts must be in the contact list prior to this step).

The contacts should be entered in the UI based on the anchor text/ Text field saved in the actual document.
Anchor text placed in the document will be linked to the contact that requires to sign in that particular place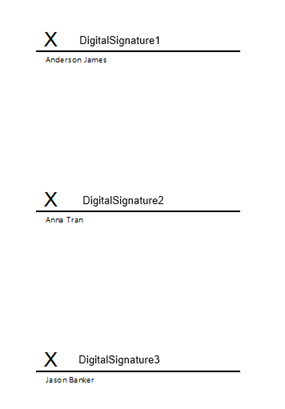 For the above document, there are three different contacts that require signing, a unique anchor text is placed for each contact.
Once the document is uploaded and enabled for digital signing the system will recognise that three contacts are required to sign the document that is uploaded.

As per the above document the contacts should be selected as per below and saved
DigitalSignature1 – James Anderson
DigitalSignature1 – Anna Tran
DigitalSignature3 – Jason Banker
6. Once contacts are added click confirm.