---
We would love to hear your feedback or suggestion on our Documentation and Training Manuals.
To share your feedback or suggestion with us, please use the 'Provide Feedback' thumbs up available on the top right-hand side of every Simple Fund 360 screen.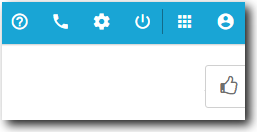 Click on the thumb to provide your feedback.

For example:
How do you find the help system? Is it user-friendly and easy to navigate through?
How is the Search? Is it easy to find instructions on a specific topic?
Is there any more information you need in the help?
What topic would you like to have added to the help?