Note
BGL do not provide accounting or taxation advice. The following is designed to act as a guide for Simple Fund 360 users. It is not designed to be accounting or tax advice and should not be taken as a strict guideline. Other methods that are more suitable may be used instead of these steps.
Details
---
On 12 December 2013, shareholders of Macquarie Group Limited voted and approved resolutions for a Distribution and a 1 for 0.9438 consolidation of fully paid ordinary shares. The Distribution comprises of a special dividend and capital return to each registered holder of fully paid ordinary shares by an in-specie distribution of one fully paid Sydney Airport (SYD) stapled security for each ordinary share held at the record date.
For more information, refer to the following documents:
ASX website
ATO website
The following table summarises the changes:
| Date | Change | Details |
| --- | --- | --- |
| 23/12/2013 | Consolidation | 1 for 0.9438 |
| 13/01/2014 | Capital Return | $2.5737 |
| | Dividend | $1.1563 |
| | Total Distribution per unit | $3.73 |
In the following example, the fund held 163 MQG shares prior to the consolidation taking place (as at 20 December 2013).
The following transactions need to recorded:
Step 1 - Record the Consolidation
---
A 1 for 0.9438 consolidation for 77600/MQG needs to be recorded on 23 December 2013.
Click here to view a sample statement from Macquarie >>>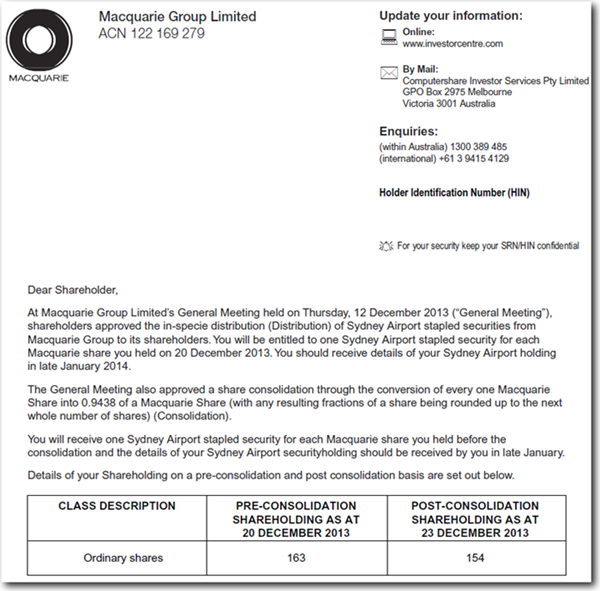 To record the consolidation:
Go to Investment | Corporate Actions.
Select New Corporate Action and the Security to process.
Choose Share Consolidation as the

Corporate

Action Type.

Input the consolidation details.





The Corporate Action Summary will display below. Select Process once you have confirmed the share consolidation details are correct.


Proceed to Step 2.

Step 2 - Return of Capital, Dividend Received and Receipt of SYD Securities
---
SF360 allows multiple transactions occurring on the same day to be posted as one journal entry. As all of the following transactions happened on the same date, a single journal entry will be used to record them. Please note that you can split this into multiple journals if you wish.
Click here to view a sample distribution statement from Macquarie >>>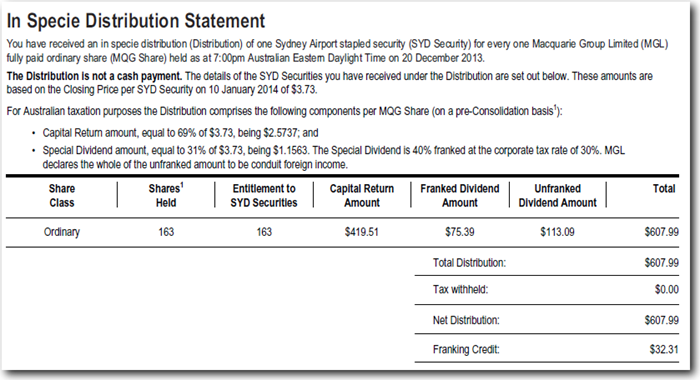 Go to Accounting | Transaction List.


Select New Transaction and then Journal from the drop-down list.
Input 13/01/2014 in the Date field and input a reference and description.

Transaction Item 1 - Return of Capital

Record a return of capital to the 77600/MQG account.
In this example, we need to record a return of capital of $419.51 (163 units x $2.5737 - rounded to two decimal places).


Transaction Item 2 - Dividend Received

In this example, we need to record a dividend amount of $188.48 (163 units x $1.1563 - rounded to two decimal places). The special dividend component equal to 31% of the distribution. MQG has declared the dividend component to be 40% franked and the remaining unfranked portion of the dividend to be conduit foreign income (CFI) for tax purposes. (See Point 18 and 27 of the CR 2014/10).

Record the dividend to the 23900/MQG dividend account.






Transaction Item 3 - Receipt of SYD Securities

If the fund does not hold any units in SYD, you will need to create a new investment account for SYD by selecting Add New Account.

Record the balancing figure of $607.99 to the 78200/SYD account.

In this example, the balancing figure equals $607.99 (163 units x $3.73)

Input the number of units received (163 units) and the in-specie distribution amount ($607.99).





Select Post and SF360 will post the following journal entry: