Overview
---
Job Templates allow you to standardise the Jobs that are used across the firm without having to spend time manually recreating Jobs with their associated task lists.
Job Templates can be created from scratch or duplicated from an existing template.
---
Navigation
| | |
| --- | --- |
| From the Main Toolbar, hover the cursor over the Workflow icon. | |
| Select Workflow Overview. | |
---
Duplicate an existing Template
To duplicate an existing Template search for the Job Template by name in the search bar, then click on the template.
Once selected, on the left side click 'Duplicate template' then 'Duplicate':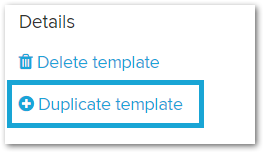 The new template will have the word 'copy' in the Job Name which can be edited.
---
Create a new Job Template
To create a new Job Template click Add Job template.


Type in a name for the new Job Template and press Enter.


A popup screen will appear. Enter the details for this new Job Template as necessary.
A description of these fields can be found below:
| | |
| --- | --- |
| Item | Description |
| Assignee | This will set a default assignee every time the template is created. |
| Description | Free form text for a description of the template. |
| Default Start Date | Default start date can be set as immediate, an exact date, or be based off a financial year start/end, or x number of days after. |
| Default Due Date | Default due date can be set as an exact date, be based off a financial year start/end, or x number of days after, or the Job start date plus x number of days. |
| Repeat Period | If a Job is set with a Repeat Period, once it is marked as Completed the option will appear to create the same Job Template for the next period. |
| Auto Assign | Allows you to limit if the Job Template should only be used by certain entity types. |
| Tasks | Create a list of tasks that make up this overall Job Template. |
| Apply Template | Template can be added in bulk to all or a group of entities, based off Entity Type or Labels. |
Tip: Show Template Usage
The Usage button will open a matrix displaying each Entity that uses this Job, the Job Status and the Status of each Task within the Job. This view can be exported to excel.

---
FAQ
Q: How do we roll forward the Job from one year to the next?
A: If the Job Template has a Repeat Period, once the Job Status is set as 'Complete' there will be an option in the Job to 'Create Next Repeat Job'.
Q: If I have assigned the Job Template to multiple entities, and then add a new Task will this new task be reflected across all entities?
A: The new task will only apply to future Jobs that are created from this template.